Dr. Dwayne Kwaysee Wright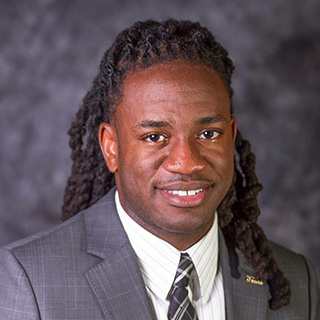 Dr. Dwayne Kwaysee Wright
Assistant Professor, Higher Education Administration; Director of Diversity, Equity, and Inclusion Initiatives
---
School: Graduate School of Education and Human Development
Contact:
Dr. Dwayne Kwaysee Wright is an Assistant Professor of Higher Education Administration and GSEHD Director of Diversity, Equity, and Inclusion Initiatives at the George Washington University (GW). His research and social activism seek to advance educational opportunity and equity for all students, particularly those historically oppressed and marginalized in American society.
Dr. Wright's research is located within three broad theoretical frameworks: Critical Race Theory, Sociocultural Theory and Critical Pedagogy. His areas of empirical research interest include access, diversity, and equity policies for underserved populations in higher education; the use and influence of social science research in/on law; undergraduate and professional Multicultural Greek Life; and critical race theory & critical pedagogy in post-secondary education. His legal research interest focuses primarily on education law, First Amendment jurisprudence and American equal protection theory.
Dr. Wright joined GW's Graduate School of Education and Human Development after serving as a Visiting Assistant Professor at Savannah Law School in Georgia where he taught Constitutional Law. He holds a Ph.D. in Higher Education from the Penn State University. His dissertation focused on the influence of diversity and inclusion on the culture of learning and living in law schools, particularly for marginalized/minoritized law students. The dissertation was awarded the Dr. Marcia Clarke-Yapi Memorial Award which is given for having the highest quality dissertation dealing with research in equity issues in education.
Furthermore, Dr. Wright is currently the National Coordinator for the Council on Legal Education Opportunity's "Legally Inspired Cohort" (CLIC) program. The CLIC is a program focused on increasing minoritized student access to law school. The program is designed to test the hypothesis that minoritized law students are more likely to succeed if they are prepared and provided a welcoming and supportive community.
Dr. Wright is currently licensed to practice law in New York and New Jersey.
---
Ph.D. in Higher Education, Pennsylvania State University
J.D., Pennsylvania State University Dickinson School of Law
Master's in Education, Pennsylvania State University
B.A. in Political Science, Norfolk State University