Graduate Certificate in Incorporating International Perspectives in Education
Think Globally: Create an Inclusive Classroom
The Graduate Certificate in Incorporating International Perspectives in Education strengthens student understanding of internationalization as it relates to school systems and the development of curriculum in K-12 settings. Participants will learn how to incorporate global perspectives into curriculum, pedagogy, and school policy and practice.

Unique Global Perspective
One of the only graduate programs to focus on K-12 global education, our cross-departmental focus combines expertise in policy, practice, curriculum, and pedagogy as it relates to internationalization of education.

Accommodating
Classes are offered in the evenings and on weekends to accommodate working professionals and for internship experiences. The two core courses are offered online.
GW's dual enrollment program shortens the time to degree and certificate completion. Earn this graduate certificate now, and continue on or return later to fold it into a Master's in International Education.* You can transfer all 12 credit hours toward the master's degree.
*All requirements must be met and student accepted to the master's program
Graduate Certificate in Incorporating International Perspectives in Education
Our Mission

Our mission is to develop constructive leaders with expertise in incorporating global perspectives into curriculum, pedagogy, and school policy and practice.

Curriculum

 

This cross-departmental certificate is comprised of courses in International Education and Curriculum and Pedagogy.

The following requirements must be fulfilled: 12 credits, including 6 credits in required courses and 6 credits in elective courses.

Code
Title

Required

CPED 6305
Foundations of Curriculum Theory
EDUC 6615
Internationalizing U.S. Schools: Comparative Perspectives

Electives - 

6 credits from the following:
CPED 6225
Introduction to International Curricula
CPED 6557
Second Language Acquisition
CPED 6608
Development and Diversity
CPED 6627
Teaching Second Language Reading and Writing
EDUC 6602
Regional Studies in International Education
EDUC 6640
Selected Topics in International Education (Citizen, Culture, Language and Nation-building in the Global Era)

Program Outcomes

Through this certificate, students will be able to:

Recognize the rich theoretical perspectives on internationalization, global citizenship, and global competence education, while stepping out into the complexities of the real world through examining the policies and practices in specific local, regional, national, and global contexts;
Acquire the tools, methods, and habits of analysis that enable them to be leaders of internationalization, as it relates to education policy, curriculum, and pedagogy.
GSEHD's Office of Admissions invites you to apply for a spot in our program. Please review the following admission and financial information.
Ready to take the next step in your career? Review our step-by-step guide to applying to GSEHD >
To learn more about the program, admission process, and upcoming events, please connect with the GSEHD Admissions Team at education@gwu.edu or 202-994-9283.
To be considered for admission, applicants must submit the online application form as well as the following required supporting documents. There is no application fee.

Prerequisite: Bachelor's Degree

Resume

Transcripts from all previously attended colleges or universities

Statement of Purpose

One Letter of Recommendation

*Additional application requirements may exist for international applicants.

For more information on any of these requirements, please visit our Admissions FAQs page.
Applications are now being accepted for Spring 2024. We encourage you to apply as early as possible.
| Application Timeline | Spring | Summer | Fall |
| --- | --- | --- | --- |
| Priority Deadline | Aug 1 | Nov 1 | Nov 1 |
| Round 1 Deadline | Sept 15 | Dec 15 | Dec 15 |
| Round 2 Deadline | Nov 1 | Jan 16 | Jan 16 |
| Round 3 Deadline | Dec 15 | March 1 | March 1 |
| Round 4 Deadline | N/A | May 1 | May 1 |
| Round 5 Deadline | N/A | N/A | June 15 |
| Round 6 Deadline | N/A | N/A | Aug 1 |
 Tuition & Financial Aid
We know embarking upon graduate school is a big decision - due in part to the costs of attending. At GW, we understand the time and thought behind making graduate school work for you. Please take a moment to learn more about the options and opportunities available to help fund your graduate education.
Graduate tuition is charged per credit hour, unless otherwise noted. Rates vary by program and location.
The tuition rate* for the Graduate Certificate in Incorporating International Perspectives in Education program is $1,870 per credit hour.
This program requires 12 credits.
Please note: Additional fees may apply for international students, late fees, etc. Current tuition rates may be updated during the year.
*Summer 2023, Fall 2023 and Spring 2024
As someone who completed the Master's in International Education and this certificate program, I found the combination invaluable! The MA provided a firm foundation in theory, critical thinking, publishing, and educational research while the certificate coursework was deeply integrated with educational practice. I also appreciated the range of classmates from those bound for international organizations and educators currently in the classroom endeavoring to bring missing global perspectives to their students. The MA and certificate proved the perfect combination for me as I graduated and moved into a position developing curriculum related to the UN Sustainable Development Goals. I am so grateful for my time at GW!
HEIDI GIBSON ('18)
Acting Manager, Global Sustainability Series, Smithsonian Science Education Center
Graduate Certificate in Incorporating International Perspectives in Education
 Career Outlook

Completion of this program can open up various career opportunities that involve working with diverse populations, promoting global awareness, and integrating international perspectives into educational settings.
Career Opportunities

International Education Coordinator: Develop and implement programs that promote global understanding and cultural exchange in educational institutions. You may facilitate study abroad programs, coordinate international student services, and foster partnerships with foreign educational institutions.

Curriculum Developer: With your expertise in incorporating international perspectives, your role might involve designing educational materials and curricula that integrate global themes, multicultural perspectives, and cross-cultural understanding.

Global Education Consultant: Advise educational institutions, nonprofit organizations, or government agencies on international education policies and strategies. You may provide guidance on incorporating global perspectives into existing programs, developing intercultural competency training, or fostering international collaborations.

International Student Advisor: Support and advise international students studying in educational institutions. You would assist them with immigration processes, provide cultural adjustment support, and offer guidance on academic and personal matters.

Teacher/Educator: With a focus on international perspectives in education, you can pursue teaching positions in schools that emphasize global awareness and intercultural understanding. You can contribute to the development of inclusive and culturally responsive teaching practices.

Education Researcher: Conduct studies on topics such as global education policies, intercultural communication in classrooms, or the impact of international experiences on student learning outcomes.

Nonprofit or NGO Work: Many nonprofit organizations and non-governmental organizations (NGOs) work in the field of education, particularly with an international focus. You could find opportunities to work with organizations that promote educational equity, cross-cultural understanding, or support education initiatives in developing countries.

Intercultural Trainer: As an intercultural trainer, you can deliver workshops and training sessions to educators, students, or professionals in various fields. You would help them develop intercultural competence, cross-cultural communication skills, and an understanding of global perspectives.

Potential Employment Settings

Our graduates pursue a wide range of leadership positions in:

K-12 Schools and School Districts
Think Tanks
State and Federal Level Positions
Non-Governmental or International Organizations
Philanthropy Organizations
I started the International Education Master's program and Graduate Certificate in Fall 2019. Despite the pandemic and its associated challenges, I found the program to be incredibly rewarding. The faculty and staff were supportive while also challenging me to grow both professionally and personally. The certificate coursework provided practical skills in integrating global perspectives into pedagogy, curriculum, and policies, which have proved invaluable in my classroom as an educator and in my new role as a Global Studies Specialist. I am confident that the certificate was instrumental in getting me to this point in my career, and I highly recommend this program to anyone seeking to enhance their skills in the field of international education and to make a positive impact.
CAROLINE FAIRCLOTH ('21)
Global Studies Specialist for District of Columbia Public Schools
Graduate Certificate in Incorporating International Perspectives in Education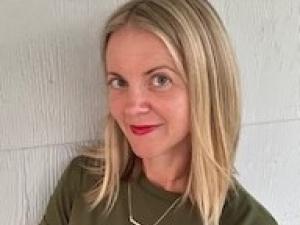 Dr. Laura Engel
Professor, International Education and International Affairs