Dr. Julia Storberg-Walker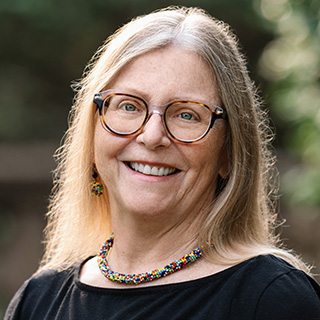 Dr. Julia Storberg-Walker
Associate Professor, Human and Organizational Learning
---
Contact:
Julia Storberg-Walker is an Associate Professor in the Department of Human and Organizational Learning, Graduate School of Education and Human Development, at the George Washington University. After serving in various leadership capacities at Deloitte & Touche and Deloitte Consulting (1985-1999), she shifted to the non-profit sector and received her PhD in Work, Community, and Family Education from the University of Minnesota in 2004. She has been recognized for her critically-informed teaching, research, and activism/service as the recipient of multiple awards including the R. Wayne Pace Book of the Year Award by the Academy of Human Resource Development (2019), the Laura Bierema Critical HRD Award (also from the Academy of Human Resource Development) in 2017; and the Outstanding Research Award from the International Leadership Association (2015). She was inducted into the Academy of Outstanding Faculty Engaged in Extension by North Carolina State University: during her tenure there, she was the recipient of over $1.2 million dollars in grants, and submitted almost $7 million dollars in grant proposals. She is a former Vice President and Board member of the Academy of Human Resource Development, former Editor-in-Chief of JCI and SCOPUS-ranked Human Resource Development Review, and currently serves on the Executive Committee of the Management, Spirituality and Religion Interest Group of the Academy of Management. Her activist/scholar work is generative and aims to develop equitable and compassionate frameworks, models, and processes for the purpose of catalyzing whole planet interdependence and flourishing. This work is transdisciplinary and grounded in contemporary philosophical perspectives including posthumanism, new materialism, quantum field theory, and wisdom traditions spanning diverse cultures and historical moments.
In her own words, "For the past several years I have been led to re-define myself and my work as a scholar in leadership studies. While my history illustrates a sustained commitment to legitimizing diverse ways of leading (through theorizing and teaching) and justice (through critical race/gender research and activism), I am now in a place where I see the immense value of contemplative practices for leading, justice, and peace. I believe human and planetary flourishing cannot be accomplished without humanity re-connecting to their unity—and their diversity within their unity. I see my contribution as an leadership studies educator grounded in the the wisdom of the feminine—a voice long submerged and whose time is now....
...I have started to find more and more people who share this type of perspective, and I see more and more people yearning for the profound, the wise, and the eternal. I want to spend the time I have left on this planet helping others expand their wisdom and consciousness in hopes that a tipping point will occur. I am transferring my deep experience with research, grants, educating, and leading from an exclusive scholarly focus and to a more 'pracademic' (practitioner/academic) focus. I hope to serve the higher good of the planet and human kind, and I seek to collaborate with others in order to have the broadest impact possible."
---
Ph.D., University of Minnesota
M.A., University of California
B.A., University of California
Dillard, N., Johnston, L.J., & Storberg-Walker, J. (Accepted, in preparation 2021). Transforming doctoral education through relational ontologies: Generating new connection and dis-connections for justice, equity, diversity, and inclusion (JEDI). In E.S. Hauman, N.D. Martin, n. madyun, and P. Mataira (Eds) Reflections on graduate education: Equity, deiversity, and justice in the neoliberal university.
Dillard, N. & Storberg-Walker, J. (Accepted, in preparation 2021). Co-conspirators: The journey of two educators to engage DEI within leadership education. In J. Marques & S. Dhiman (Eds.) Diversity, equity, and inclusion as a leadership strategy.
Storberg-Walker, J. (Accepted, in revision 2021). A window of our own: Towards a quantum research paradigm in Management, Religion, and Spirituality. Journal of Management Spirituality and Religion.
Storberg-Walker, J. & Yu, D. (Accepted, in press 2021). The quantum shift: Teaching sustainability leadership critically and mindfully. In E. Ivanova & I. Rimanoczy, Eds., How do you shift a mindset? Tools and transformative stories from students around the world. Palgrave McMillan Publishers.
Thompson, R.J. & Storberg-Walker, J. (Eds). (2018). Leadership and Power in International Development: Navigating the Intersections of Gender, Culture, Context and Sustainability.. Building Leadership Bridges Book Series. International Leadership Association and Emerald Publishers, Inc. (2019 Recipient of the R. Wayne Pace Award, see 'Awards' section above).
Storberg-Walker, J. & Haber-Curran, P. (Eds.) (2017). Theorizing Women & Leadership: New Insights & Contributions from Multiple Perspectives. Volume 5, Women and Leadership Book Series. International Leadership Association and Information Age Publishing, Inc.
Storberg-Walker, J. (2008). Wenger's communities of practice revisited: A (failed?) exercise in applied communities of practice theory-building research. Advances in Developing Human Resources, 10 (4), 555-577. doi:10.1177/1523422308319541
Storberg-Walker, J., & Gubbins, C. (2007). Social networks as a conceptual and empirical tool to understand and "Do" HRD. Advances in Developing Human Resources, 9 (3), 291-310. doi:10.1177/1523422306304071
Storberg-Walker, J. (2007). Borrowing from others: Appropriating social capital theories for "Doing" HRD. Advances in Developing Human Resources, 9 (3), 312-340. doi:10.1177/1523422306304097
Storberg-Walker, J. (2006). From imagination to application: Making the case for the general method of theory-building research in applied disciplines. Human Resource Development International, 9 (2), 227-259. doi:10.1080/13678860600616420
Storberg, J. (2002). The evolution of capital theory: A critique of a theory of social capital and implications for HRD. Human Resource Development Review, 1 (4), 468-499. doi:10.1177/1534484302238437
Storberg-Walker, J., Tekle, H., List, C., & Yu, D. (conference presentation accepted, 2021). The consciousness of relational paradigms: An exploratory collaborative autoethnography. Mahareshi International University Leadership Conference, April 2021.
Hutchins, H., Bierema, L., Byrd, M., Scott, C., Ruona, W., Gedro, J., Callahan, J., Elliott, C., & Storberg-Walker, J. (2021, February). Decentering whiteness, confronting complicity, and taking action to disrupt systemic racism. Academy of Human Resource Development International Research Conference in the Americas. (Virtual conference).Storberg-Walker, J. (2020, August).
Re-visioning management: Quantum perspectives. Academy of Management Annual Research Conference. Academy of Management, Management, Spirituality, and Religion Interest Group Showcase Symposium; Streaming Session Online.