Dr. Monica Megivern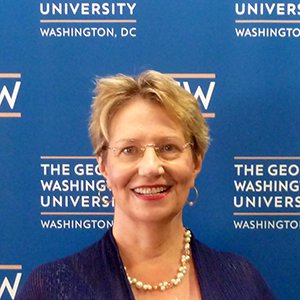 Dr. Monica Megivern
Clinical Associate Professor, Counseling
---
School: Graduate School of Education and Human Development
Contact:
Dr. Megivern has held positions in non-profit and for profit mental health care at the corporate level in national companies as well as in managed mental health care. Her treatment of clients has spanned the continuum of mental health care from outpatient, intensive outpatient (IOP), partial hospital, inpatient to residential settings.
Dr. Megivern's experience in preparing institutions for compliance accreditation includes the Joint Commission on the Accreditation of Healthcare Organizations, and state accreditation sites across the country.
As a school counselor, she worked on the elementary, middle and high school levels in private and public school systems.
Dr. Megivern had a private practice for 11 years where she saw gay, lesbian, and straight couples for counseling as well as children, adolescents, and adult individuals for short and long-term psychotherapy. Her specialties include grief counseling, trauma and couples/family therapy.
Find more information on our Community Counseling Services Center.
---
Ed.D., Virginia Polytechnic Institute and State University
M.A., University of Missouri at Kansas City
B.A., Briar Cliff University
Megivern, M., Hargreaves, H., Braminay, M., & Campbell, A. (2013, October). Process to assess treatment effectiveness at a counseling training clinic. Association for counselor education and supervision. Denver, Colorado.
LaFauci Schutt, J., Megivern, M., & Coyle, M. T. (2011, October). Application of a training clinic model, current practices, and future directions. Association for counselor education and supervision. Nashville, TN.
Megivern, M., & LaFauci Schutt, J. (2011, June). Consultation as a model in the continuum of supervision. International interdisciplinary conference on clinical supervision. Garden City, N. Y.